The Do's and Don'ts of Employee Training
The Do's and Don'ts of Employee Training
Wednesday, July 12, 2023 (11:00 AM - 11:30 AM) (EDT)
Description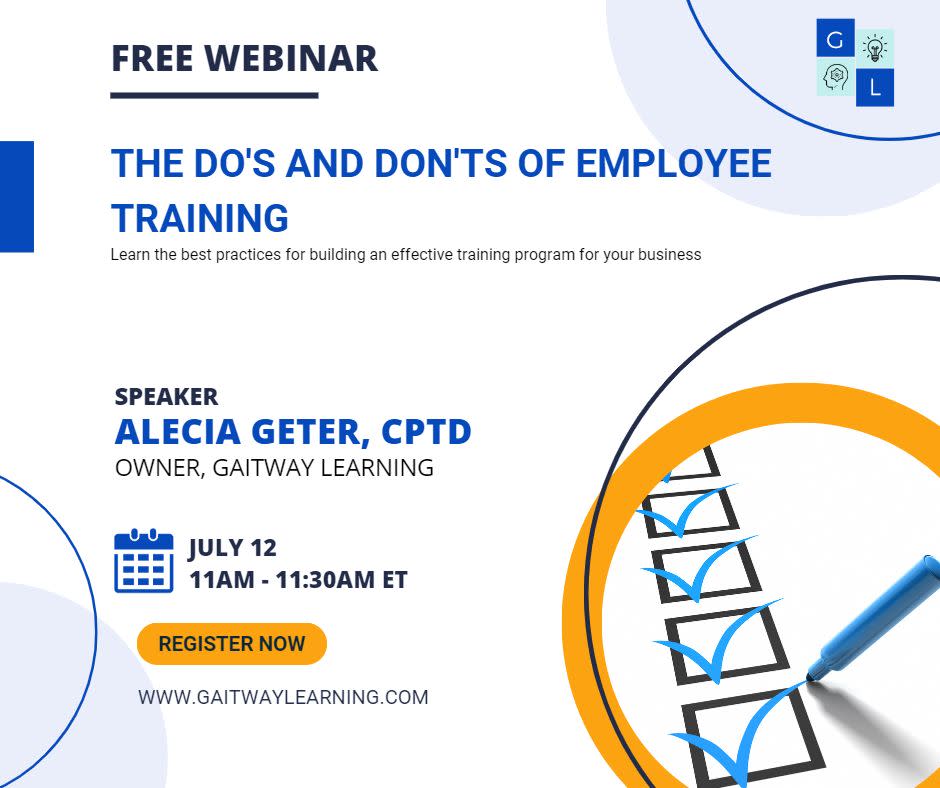 Join us for an engaging and informative webinar, "The Do's and Don'ts of Employee Training," designed exclusively for small and medium-sized business owners like you. Training your employees effectively is crucial for the growth and success of your organization, and this webinar aims to equip you with the knowledge and strategies to optimize your training initiatives.
During this session, our training industry professionals will guide you through the essential do's and don'ts of employee training, offering valuable insights and practical tips to enhance your training programs. Whether you're a seasoned entrepreneur or just starting your business journey, this webinar will provide you with the tools to foster a skilled and motivated workforce.
Key Topics Covered:
Building a solid foundation: Identifying training needs and setting clear objectives.
Designing effective training programs: Crafting engaging content and selecting appropriate training methods.
Utilizing technology for training success: Exploring innovative tools and platforms for efficient training delivery.
Maximizing employee engagement: Techniques to keep employees motivated and involved in the learning process.
Measuring training effectiveness: Assessing the impact of training and tracking ROI.
Don't miss out on this exclusive opportunity to revolutionize your training approach and unlock the full potential of your employees. Register now for "The Do's and Don'ts of Employee Training" and take a significant step toward building a skilled, engaged, and high-performing workforce.
Note: Limited spots are available, so reserve your spot now to secure your attendance.
FREE WEBINAR REGISTRATION REQUIRED

Wednesday, July 12, 2023 (11:00 AM - 11:30 AM) (EDT)