Rise 2 Grind Gourmet Coffee
Delicious Office Coffee for Charlotte Area Businesses
Office Coffee service that meets the needs of your business
Available for a Free Trial in Your Office Today
From small to large offices, we have you covered with delicious coffee and hot beverages.
From tabletop to cabinet sized machines, these Italian made barista machines produce premium coffee and hot beverages that impress.
Our models are all automatic systems generating the perfect coffee or hot
beverage consistently cup after cup, with one touch. A complete barista espresso system! We provide
an all-inclusive coffee program for business and hospitality industry. There is no reason to ever have
staff make coffee or clean up again!
Our office coffee service includes
• Free delivery & set up
• Free coffee restocking
• Free cleaning
• Free maintenance & repair
Wide Selection of Beverages
Enjoy the luxury and convenience of barista quality gourmet coffee beverage in your own workplace at
the push of a button!
• Coffee – dark, medium roast
• Espresso – single, double shot
• Lattes in an assortment of flavors
• Assorted Teas
• Hot Chocolate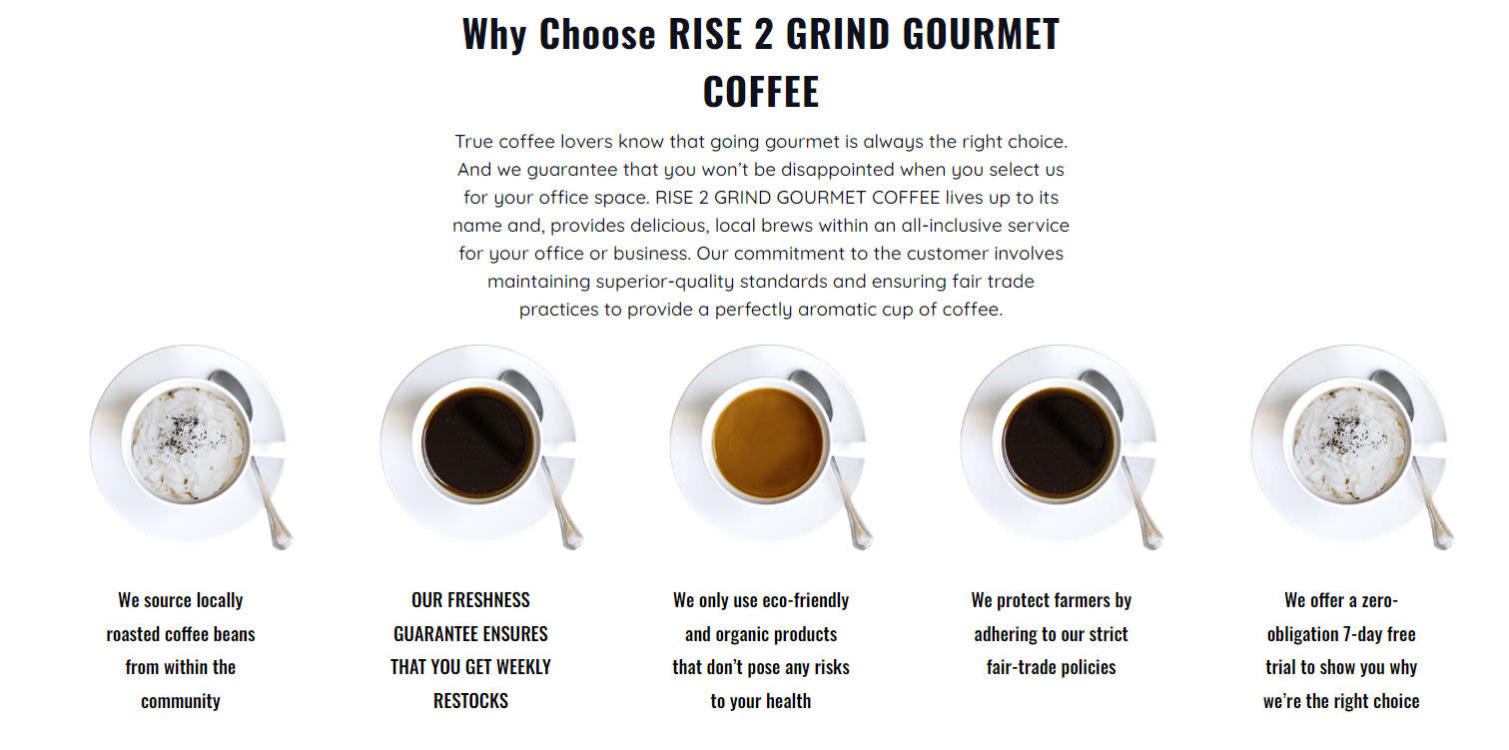 As a former financial advisor, Kevin spent the last several years working long and hard hours within the office environment. He empathizes with those who are in the daily grind, have wonderful careers, work for great companies, and enjoy their coworkers, but have their excitement instantly watered down every time they pour a cup of bland office brew.
Leaving the financial world in pursuit of a work/family balance, Kevin was introduced to JBC and the imported Italian Bianchi barista machines at a convention in Chicago, IL. Instantly astonished by the first sip of the Italian double espresso, he knew there was something amazing there. He was even more impressed by the fact that it was a compostable, 100% organic product made with, fair act, certified beans, – all of which fell in line with his personal values. It was at this moment that he made it his mission to bring the finest of office coffees to the greater Charlotte businesses.
Today, Kevin pours his passion into RISE 2 GRIND GOURMET COFFEE while also spending quality time with his loved ones and enjoying biking, swimming, traveling, and continuing to explore the finest of brews from around the world
Gallery