WELCOME TO THE ARK!
Ark Veterinary Services LLC delivers the best veterinary care in North Carolina and South Carolina. We service a wide variety of animals from small animals to livestock to exotic animals.
Ark Vet delivers the best veterinary care to small animals and livestock. We also treat small mammals, reptiles, and birds.
Visit our Charlotte, NC branch today and experience the Ark's attentiveness and service.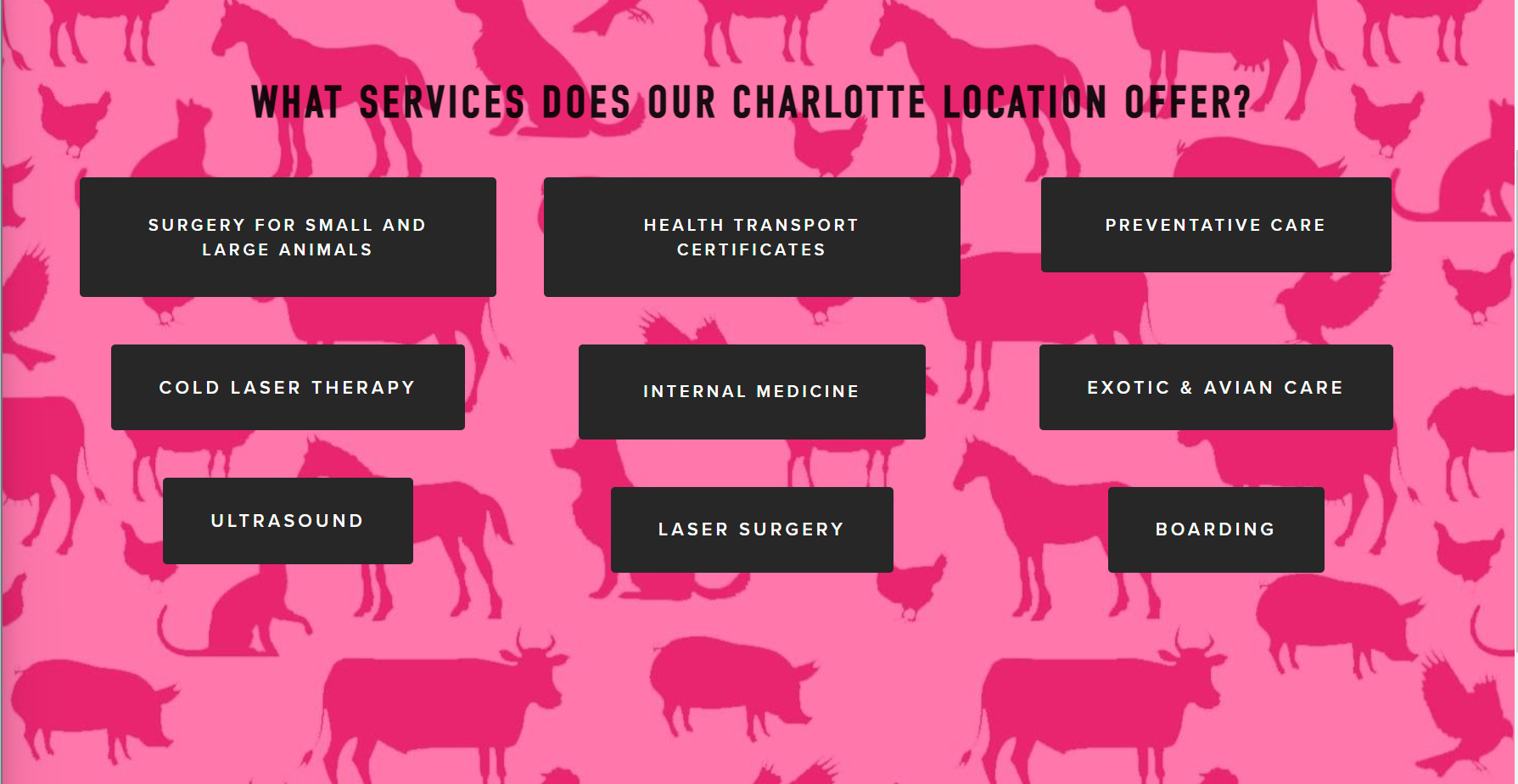 PREVENTATIVE CARE
We provide personalized preventative health care plans for domestic and exotic animals. We consider vital factors like their age, breed, and lifestyle and are happy to answer questions and give advice.
SURGERY
Hearing that your animal needs to go under the knife can be stressful. We will ensure that both you and your animal feels comfortable before, during, and after their surgical procedure.
HEALTH TRANSPORT CERTIFICATES
Before you can take your animals anywhere within the United States, they need a veterinary health certificate. Ark Vet is here to help you with the paperwork for your pet's domestic travel.
INTERNAL MEDICINE
Trust our veterinarians to carefully assess, diagnose, and treat issues in the internal systems of small, large, and exotic animals.
LASER SURGERY
Our state-of-the-art facility offers laser surgery. The benefits of laser surgery over classic surgery include faster healing, less blood loss, sterilization of the tissue, and less post-surgical pain.
ULTRASOUND
Ultrasound transmits sound waves into your pet's body to create an image of a specific body part. Ultrasounds are a gentle, non-invasive way to help your vet quickly and accurately diagnose or evaluate issues
COLD LASER THERAPY
Cold laser therapy (also known as low-level laser therapy or Class IV laser therapy) uses focused light to increase blood circulation and stimulate the regeneration of cells.
EXOTIC & AVIAN CARE
We are proud to offer exotic animal and avian care for your pets and animals in Charlotte, North Carolina.
BOARDING
We are proud to offer boarding services for your pets and animals in Charlotte, North Carolina.